Carulite
The CARULITE® 300 catalysts are used to effectively destroy carbon monoxide in compressed breathing air.
The versatility and effectiveness of CARULITE 300 catalysts make it the benchmark technology for removal of deadly carbon monoxide from compressed breathing air sources. Ambient temperature destruction of carbon monoxide coupled with long catalyst lifetime provides a cost-effective solution to the removal of carbon monoxide.
Compressed Breathing Air
CARULITE 300 catalysts are an essential part of air purification systems used for the removal of carbon monoxide and other gasses from compressed air sources.
Typical applications for compressed breathing air includes:
Fire Fighting
SCUBA Diving
Medical
Spray Painting
Sand Blasting
Compressed air is pre-filtered and passed through a desiccant dryer where water vapor is removed to a -40°C dew point. Activated carbon or other media is then used to remove oils and other volatile organic compounds, prior to contact with the catalyst bed. The dry treated air is passed through the CARULITE 300 catalyst to convert the carbon monoxide to carbon dioxide. The air is then passed through a post-filter to produce breathing quality air.
The compressed breathing quality air flows to a supplied-air type breathing apparatus is used to fill SCBA tanks, or in other applications where high-quality air is required. 
At D&F Techniek we have the CARULITE 300, 8 x 14 mesh catalyst in stock.
Any questions? please contact us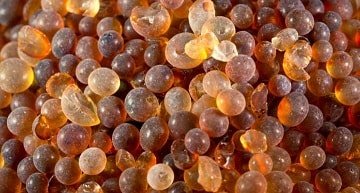 Sorbead Air WS, Sorbead Air R, Sorbead Orange, Compressed air treatment